Katamaran Lagoon 50
6 podwójnych kabin + 2 skiperskie
Lagoon 50 jest atrakcyjną opcją dla nawigatorów poszukujących dużej i nowoczesnej jednostki. Lagoon 50 jest elegancki, w środki niezwykle jasny, kształty kadłuba są przyjemne dla oka.
Lagoon 50 – OLINOWANIE NOWEJ GENERACJI: WYDAJNOŚĆ I PROSTOTA
Decyzja o umieszczeniu stopy masztu dalej na rufie, zapewnia temu katamaranowi wiele zalet:
Fok samohalsujący – upraszcza manewry;
Duża powierzchnia foka – zwiększa prędkość, szczególnie na pełnych kursach;
Krótszy bom – łatwiejsze manewry,
Grot o dużym wydłużeniu, umożliwiający lepsze przechwytywanie powietrza w górnej części żagla w celu zoptymalizowania osiągów.
Olinowanie przesunięte w stronę rufy lepiej równoważy jednostkę.
Lagoon 50 – WYGLĄD ZEWNĘTRZNY: WYGODNY I FUNKCJONALNY
Flybridge z dwoma bezpiecznymi dostępami i sterem zapewnia doskonałą widoczność. Za sterami znajduje się ogromna modułowa strefa rekreacyjna, a tam materace słoneczne
Duży otwarty kokpit skierowany w stronę morza, szerokie schody na rufie umożliwiają łatwy dostęp do łodzi oraz pokładów kąpielowych. Stół w wersji złożonej jest dobrą, kompaktową opcją w czasie żeglugi, a po rozłożeniu jest wspaniałą jadalnią dla całej załogi.
Drugi kokpit na dziobie ma podwójną funkcję – można tu zająć pozycję siedzącą lub położyć się na równym poziomie z przednią trampoliną.
Ogromne schowki umieszczone są pod większością siedzeń w kokpicie i na flybridge.
Wnętrze katamaranu Lagoon 50 jest przestronne i świetliste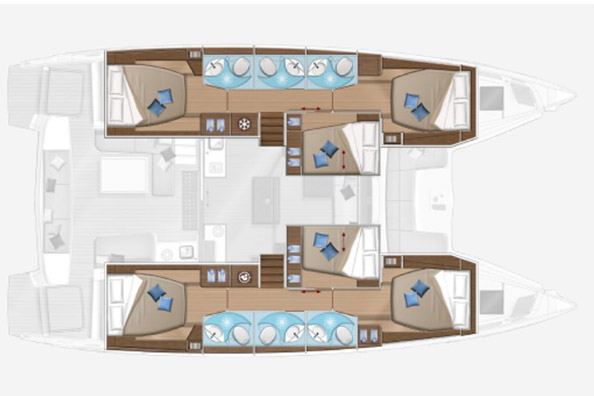 W innowacyjnej architekturze tego katamaranu każdy szczegół został zaplanowany tak, aby stworzyć ciepłą, domową atmosferę. Konstrukcja umożliwia rozmaite modele zakwaterowania, a w czarterze najczęściej spotkamy wersję z sześcioma podwójnymi kabinami i sześcioma łazienkami. Każda z kabin dla gości ma podwójną płaską koję – w czterech kabinach to koje wyspowe, dostępne z trzech stron. W kabinach środkowych, nieco mniejszych, dostęp do koi jest z boku. 12 osób znajdzie na Lagoonie 50 wygodne zakwaterowanie w kabinach, bez konieczności rozkładania spania w mesie. Do dyspozycji pozostają także dwie kabiny skipperskie w skrajnikach dziobowych. W opcji czarteru ze skiperem lub dwuosobową obsługą,  zapewniona jest intymność – kabiny skiperskie dostępne są z pokładu.
Innowacyjna koncepcja salonu na dwóch poziomach, zapewniająca dwa oddzielne, ale komunikujące się obszary: duży kambuz, który otwiera się na kokpit z jednej strony oraz lekko podwyższoną część wypoczynkową ze wspaniałym widokiem przez panoramiczne okna. Tę część w razie potrzeby można łatwo przekształcić w jadalnię.
Centralna panoramiczna szyba przednia jest chowana, umożliwiając bezpośredni kontakt pomiędzy kambuzem i mesą a kokpitem przednim,  można podawać przez okno napoje i przekąski. To otwierane okno idealnie wentyluje mesę, kambuz oraz kokpit.
Specyfikacja techniczna – Lagoon 50
Model
Lagoon 50
Stocznia
Lagoon
Długość całkowita
14,75 m
Długość kadłuba
14,31 m
Szerokość maksymalna
8,10 m
Zanurzenie
1,40 m
Kabiny
od 4 do 6 kabin podwójnych, 1 do 2 kabin skipperskich
Łazienki
4 – 6
Rekomendowana liczba osób
12 w wersji 6-kabinowej
Maksymalna liczba osób*
12-14 (zależy od wersji)
Powierzchnia żagli
144 m kw.
Silnik
2 x 57 KM / 2 x 80 KM
Zbiorniki wody
2 x 240 l
Zbiorniki paliwa
2 x 250 l
Zbiornik na czarną wodę
2 x 120 l
Jacht budowany w latach
2018-
Koła sterowe
1
*parametr zależy od wersji zabudowy i licencji danego egzemplarza
Przykładowe oferty czarteru katamaranu Lagoon 50 do samodzielnego prowadzenia (bareboat)
Period: Apr 29, 2023 17:00 – May 6, 2023 09:00
Lagoon 50 (KATKA )
Type: Catamaran
Year: 2019 GENERATOR & A/C , WATERMAKER, DISHWASHER, TENDER: HIGHFIELD 370 (WITH YAMAHA 25HP), SET CL WITH CONSOLE GREY
Country: CROATIA
Base: Kaštel Gomilica/Marina Kaštela
Length: 48 ft
Berths: 12 + 1 crew
Cabins: 6 + 1 crew
WC / Shower: 4 + 1 crew
Mainsail: Full batten
Price: 6,250.00 €
more info
Skipper licence required : acceptable licenses check on link https://bit.ly/3FSGA9d
Obligatory extras:
Comfort package C 2023 (Includes final cleaning, welcome package, Wi-Fi (75 GB/week), dinghy, outboard engine, bed sheets & towels, beach towels, snorkelling gear, coffee machine + 10 capsules, ice maker, cooking gas, tax): 590.00 € per booking
Croatian Tourist Tax : 1.35 € per_night_person
Security deposit: 3,500.00 €Equipment:
Comfort: Air condition, Bimini, Cockpit cushions, Coffee maker, Dinghy, Electric toilet, Flybridge, Generator, Heating, Ice maker, Inverter, Sprayhood, Teak Cockpit, Water maker
Entertainment: TV
Navigation: Autopilot, Chart plotter, Radar
Sails: Lazy jack
Period: Apr 29, 2023 18:00 – May 6, 2023 09:00
Lagoon 50
 
Type: Catamaran
Year: 2022
Country: GREECE
Base: Lefkada/Lefkas Marina
Length: 48 ft
Berths: 14 (max 12 pax)
Cabins: 8 (6+2crew)
WC / Shower: 5 (4+1)
Mainsail: Full batten
Price: 

7,574.00 €


2023 Early booking: -10.00%
Price: 6,816.60 €
more info
Skipper licence required
Obligatory extras:
End cleaning L50 (includes end cleaning, extra gas bottle, bed linen & bath towels): 420.00 € per booking
Security deposit: 5,000.00 €Equipment:
Comfort: Air condition, Bimini, Coffee maker, Dinghy, Electric toilet, Flybridge, Generator, Ice maker, Inverter, Solar Panels, Sprayhood, Water maker
Navigation: Radar
Entertainment: Game console, Radio-CD player, TV
Period: Apr 29, 2023 – May 6, 2023 (Return to the base on the evening before until 18:00 hours.)
Lagoon 50 (HIGH LIFE)
Type: Catamaran
Year: 2022
Country: CROATIA
Base: Sukošan/Marina D-Marin Dalmacija
Length: 48 ft
Berths: 14 (12 + 1 + 1)
Cabins: 7 (6 Double + Saloon + 1 Skipper)
WC / Shower: 6
Mainsail: Full batten
Price: 

7,600.00 €


Early Booking_2023: -5.00%
Price: 7,220.00 €
more info
Skipper licence required
Obligatory extras:
Comfort Pack 50/51/52/56 (final cleaning, bed linen and towels, beach towels, unlimited Wi-Fi, dinghy with outboard): 550.00 € per booking
Tourist tax/per person (total sum calculated upon check-in): 1.50 € per_night
Security deposit: 4,000.00 €Equipment:
Comfort: Air condition, Cockpit cushions, Electric winches, Generator, Inverter, Refrigerator, Water maker, Wi-Fi & Internet
Entertainment: Radio-CD player, TV
Sails: Lazy bag
Period: Apr 29, 2023 – May 6, 2023 (return to the base the evening before disembarkation, at 18:00 the latest)
Lagoon 50 A/C & GEN & WM
Type: Catamaran
Year: 2021
Country: GREECE
Base: Corfu/Marina Gouvia
Length: 48 ft
Berths: 12
Cabins: 8 (6+2)
WC / Shower: 5 (4+1)
Mainsail: Full batten
Price: 

9,850.00 €


Discount 2023: -10.00%
Price: 8,865.00 €
more info
Skipper licence required
Obligatory extras:
Standard charter pack 6: 350.00 € per booking
Security deposit: 4,000.00 €Equipment:
Comfort: Air condition, Bimini, Cockpit cushions, Cockpit speakers, Dinghy, Electric toilet, Electric winches, Generator, Inverter, Outboard engine, Refrigerator, Solar Panels, Water maker
Navigation: Autopilot, Chart plotter in cockpit
Sails: Lazy bag, Lazy jack
Entertainment: Radio-CD player
Period: Apr 29, 2023 – May 6, 2023 (return to the base the evening before disembarkation, at 18:00 the latest)
Lagoon 50 A/C & GEN & WM
Type: Catamaran
Year: 2019
Country: GREECE
Base: Kos/Marina Kos
Length: 48 ft
Berths: 12
Cabins: 8 (6+2)
WC / Shower: 5 (4+1)
Mainsail: Full batten
Price: 

9,850.00 €


Discount 2023: -10.00%
Price: 8,865.00 €
more info
Skipper licence required
Obligatory extras:
Standard charter pack 6: 350.00 € per booking
Security deposit: 4,000.00 €Equipment:
Comfort: Air condition, Bimini, Cockpit cushions, Cockpit speakers, Dinghy, Electric toilet, Electric winches, Generator, Outboard engine, Refrigerator, Sprayhood, Water maker
Navigation: Autopilot, Chart plotter in cockpit
Sails: Lazy bag, Lazy jack
Entertainment: Radio-CD player
Przykładowe oferty czarteru katamaranu Lagoon 50 z profesjonalną obsługą (crewed)
Period: Apr 29, 2023 – May 6, 2023 (Obligatory return to base on Friday till 18:00h)
Lagoon 50 Fly (SUMMER STAR )
 
Type: Catamaran
Year: 2018 With watermaker, generator & AC, dinghy 3.90 m with OB engine Yamaha 40 HP
Country: CROATIA
Base: Trogir/ACI Marina Trogir
Length: 48 ft
Berths: 13 (12+1)
Cabins: 6 (6D+1S)
WC / Shower: 5 (4+1)
Mainsail: Full batten
Price: 

6,750.00 €


Early booking cats '23: -5.00%
Price: 6,412.50 €
more info
Obligatory extras:
Advance Provisioning Allowance – A.P.A.: 3,000.00 € per booking
Bed linen and towels you are using are perfectly washed and disinfected thanks to OZONITE 40 disinfectant and laundry bleacher: included in price
Charter pack (end cleaning, bed linen, towels, WiFi Internet – 75 GB (4G, for 10 devices), starter kit, outboard fuel 5l, 2 bottles of gas, transit log): 550.00 € per booking
Free transfer Split airport-Trogir (only catamarans Lag.52 Fly & Lag.50 Fly): included in price
Outboarder ( included in price): included in price
Skipper obligatory: 1,540.00 € per week
Tourist tax per pax : 1.40 € per_night
Security deposit: 3,000.00 €Equipment:
Comfort: Air condition, Bimini, Coffee maker, Ice maker, Refrigerator, Water maker
Navigation: Autopilot, Chart plotter, Radar
Entertainment: Radio-CD player, Stand up paddle, TV
Sails: Lazy bag
Period: Apr 29, 2023 17:00 – May 6, 2023 09:00
Lagoon 50 (A/C+WaterMaker+GEN) (Thor)
Type: Catamaran
Year: 2020
Country: ITALY
Base: Capo d'Orlando Marina
Length: 48 ft
Berths: 14 (12 + 2 crew)
Cabins: 8 (6 + 2 crew)
WC / Shower: 4
Mainsail: Full batten
Price: 

8,800.00 €


2023 March/April: -20.00%
Price: 7,040.00 €
more info
Obligatory extras:
Premium Package (welcome gift, 1 bottle gas, tender, bed/bath linen, beach towel, final cleaning, tender and outboard engine, 20GB wifi, courtesy set): 740.00 € per week
Skipper (VAT excluded 22%): 1,400.00 € per week
Security deposit: 3,000.00 €Equipment:
Comfort: Air condition, Bimini, Cockpit cushions, Dinghy, Heating, Inverter, Outboard engine, Water maker
Entertainment: TV
Navigation: Autopilot, Chart plotter, Radar
Sails: Lazy bag
Period: Apr 29, 2023 18:00 – May 6, 2023 08:00
Lagoon 50 (Croda Rossa)
Type: Catamaran
Year: 2022
Country: ITALY
Base: Portisco/Cala dei Sardi
Length: 48 ft
Berths: 14 (12+2)
Cabins: 6 +2 crew
WC / Shower: 4 +1
Mainsail: Full batten
Price: 

7,874.00 €


II Early Booking 23: -10.00%
Price: 7,086.60 €
more info
Skipper licence required
Obligatory extras:
Comfort Pack (Cleaning + Bed Linen + Towels + Beach Towels + 2 SUP + Outboard + First Gas Bottle + Welcome Pack): 650.00 € per booking
Damage Waiver(+1500 EUR deposit – refundable): 500.00 € per booking
Maddalena Park Ticket cata : 120.00 € per week
One man crew: 1,600.00 € per week
Security deposit: 1,500.00 €Equipment:
Comfort: Air condition, Bimini, Cockpit cushions, Cockpit speakers, Coffee maker, Dinghy, Electric toilet, Generator, Inverter, Outboard engine, Refrigerator, Teak Cockpit, Water maker
Navigation: Autopilot, Chart plotter
Period: Apr 29, 2023 17:00 – May 6, 2023 09:00 (Clients must arrive back at base the day before the end of their charter, latest at 18:00 for check our procedures (re fuel, diver's check etc). They have free overnight and they can disembark the yacht the next day at 09am.)
Lagoon 50 (For Sail Too – Skippered)
Type: Catamaran
Year: 2018
Country: GREECE
Base: Mykonos
Length: 48 ft
Berths: 12
Cabins: 8 (4 double + 2 semi double + 2 single)
WC / Shower: 5 (4+1)
Mainsail: Full batten
Price: 

8,800.00 €


Early booking discount: -10.00%
Price: 7,920.00 €
more info
Obligatory extras:
FREE: Bed linen, towels, blankets, one set /cabin/week: included in price
Skipper fees (extra his/her meals): 190.00 € per_night
Charter pack Catamarans 50′ and above: 350.00 € per booking
Security deposit: 0.00 €Equipment:
Comfort: Air condition, Barbecue grill in cockpit, Bimini, Electric toilet, Generator, Hydraulic gangway, Inverter
Navigation: Autopilot
Entertainment: Snorkeling equipment
Period: Apr 29, 2023 12:00 – May 6, 2023 08:00
Lagoon 50 (Tigrus)
Type: Catamaran
Year: 2020
Country: SEYCHELLES
Base: Mahe, Victoria/Eden Island Marina
Length: 48 ft
Berths: 14
Cabins: 7
WC / Shower: 5
Mainsail: Full batten
Price: 9,800.00 €
more info
Obligatory extras:
Bed linen/Towel set: 25.00 € per person/week
Crewed Skipper SEY: 850.00 € per week
dinghy & engine: 160.00 € per booking
Final cleaning: 190.00 € per booking
Security deposit: 0.00 €Equipment:
Comfort: Air condition, Bimini, Dinghy, Electric toilet, Electric winches, Flybridge, Generator, Heating, Inverter, Outboard engine, Refrigerator, Teak deck, Water maker
Navigation: Autopilot, Radar
Period: Apr 29, 2023 – May 6, 2023 (Boats need to be in port Friday at latest till 17h (with fulled fuel and vacumized waste tanks))
Lagoon 50 (Clara)
Type: Catamaran
Year: 2021
Country: TURKEY
Base: Marmaris/Netsel Marmaris Marina
Length: 48 ft
Berths: 12 (10+2 crew)
Cabins: 6 (5+1 crew)
WC / Shower: 5 (4+1 crew)
Mainsail: Full batten
Price: 

12,150.00 €


Early booking 2023: -10.00%
Price: 10,935.00 €
more info
Skipper licence required
Obligatory extras:
Crew (Skipper & Hostess) excl. F&B (We have also the possibility to upgrade the Crew to Skipper and cooking Hostess for 330 € per day, exclusive Food & Beverage): 280.00 € per_night
Transitlog: 100.00 € per booking
Security deposit: 5,000.00 €Equipment:
Comfort: Air condition, Generator, Solar Panels, Water maker
Entertainment: Snorkeling equipment
Lagoon 50 jest dostępny do czarteru na wielu akwenach
Katamarany Lagoon 50 do samodzielnego prowadzenia (bareboat):
CHORWACJA: Kastela, Seget Donji, Sukosan
GRECJA: Ateny, Korfu, Kos, Lefkas, Palairos
WŁOCHY: Castellammare di Stabia, Portisco
SESZELE: Mahe
MARTYNIKA: Le Marin
Katamarany Lagoon 50 z profesjonalną obsługą (crewed):
CHORWACJA: Dubrownik, Rogoznica, Szybenik, Split, Trogir
GRECJA: Ateny, Lefkas, Paros, Pireus, Preweza
WŁOCHY: Capo d'Orlando
TURCJA: Marmaris
SESZELE: Mahe
  

Masz pytania? Zadzwoń!
Porozmawiajmy o Katamaranie Lagoon 50
Magda Koczewska 502 386 503

Katamaran Lagoon 50 – galeria zdjęć: