Zimowy czarter
Seszele, Karaiby i Tajlandia albo Wyspy Kanaryjskie!
Wrzesień – nauczyciele, dzieci i szkolna młodzież już zakończyli żeglarski sezon i zaczynają ostro pracować w szkole, a ci co mogą sobie pozwolić na wrześniowy rejs – żeglują, licząc, że porty i tawerny nie będą tak bardzo zatłoczone, jak w wakacje, a woda w morzu przecież nadal jest bardzo ciepła.  
Bez względu na to, czy wrzesień spędzamy na pokładzie jachtu czy w pracy, warto właśnie teraz pomyśleć o żeglowaniu zimą (jeśli nie zrobiliśmy tego wcześniej). Teraz jest ostatni moment, aby zarezerwować jednostkę na zimowy rejs!
Na styczeń i luty rekomenduję Karaiby, Seszele i Tajlandię – tam kwiaty kwitną przez cały rok, a w lazurowej wodzie można pławić się bez końca.
Czarter katamaranu na Seszelach – to przyjemna żegluga pomiędzy wyspami, a jadłospis może być codziennie uzupełniony o złapaną na wędkę rybę. Możemy mieć tu niezapomniane spotkania z przyrodą – z okazałymi żółwiami czy palmami, mającymi owoce  ważące nawet 30 kg!
Żeglując z Martyniki zawitamy do kilku krajów, będzie i żeglarsko na odcinku Martynika – St. Lucia – St. Vincent i jachtingowo na Grenadynach. Na Mustique można zajrzeć do Baru u Bazyla – tego samego, gdzie przychodzi bawić się Mick Jagger – jeśli akurat ma wakacje w swojej wilii. Jeśli nie Martynika, to może Gwadelupa albo Brytyjskie Wyspy Dziewicze – na Karaibach rejonów żeglarskich jest kilka, jest z czego wybierać!
Tajlandia to kraj uśmiechniętych ludzi – są to uśmiechy szczere, a gościnność Tajowie mają we krwi. Można tu smakować pyszne tajskie dania i nawet nie zauważyć, że tajska kuchnia obywa się doskonale bez nabiału. W dodatku jedzenie jest bardzo tanie (czartery jachtów już nie tak bardzo).
Coś bliżej i nie tak gorąco? Oczywiście Wyspy Kanaryjskie – można tu spędzić wspaniały czas zimą, doświadczyć atlantyckiej fali, prawdziwego żeglarstwa i wiosennej aury. Wnętrza wysp zachęcają do eksplorowania, są równie ciekawe, jak morze, jest więc co robić przez cały tydzień. Na Kanarach lepiej sprawdzi się jacht jednokadłubowy.
W większości wspomnianych rejonów styczeń, luty i marzec to wysoki sezon, Boże Narodzenie to szczyt sezonu i najwyższe ceny (jednocześnie najtrudniej już teraz o wolną jednostkę), a listopad do 15. – 18. grudnia to niski sezon z szansą na korzystniejsze ceny  (te terminy w większości są już zarezerwowane). Dla tych, którzy marzą o Seszelach – to akwen atrakcyjny i bezpieczny przez cały rok, nie tylko zimą.
Wybór jachtów i katamaranów na Seszelach, Karaibach i w Tajlandii jest  obecnie (piszę te słowa w pierwszej połowie września 3.09.22) jest dość ograniczony, ale znalazłam kilka wolnych jednostek. Przykładowe oferty czarteru zimą zamieszczam poniżej, po szczegóły wskazanych modeli w wybranych terminach  zapraszam do bezpośredniego kontaktu!
---

Period: Jan 26, 2023 – Feb 5, 2023
Lagoon 380

Type: Catamaran

Year: 2019

Country: MARTINIQUE

Base: Martinique/Le Marin

Length: 38 ft

Berths: 8

Cabins: 4

WC / Shower: 2

Price: 5,857.00 €
Skipper licence required no, but Sailing Resume requested.
Obligatory extras:

Security deposit: 4,000.00 €

Equipment:

Navigation: Autopilot, Chart plotter

Sails: Lazy bag

Comfort: Bimini, Cockpit cushions, Cockpit speakers, Dinghy, Inverter, Refrigerator, Solar Panels

Entertainment: Snorkeling equipment

---

Period: Jan 25, 2023 – Feb 4, 2023
Excess 11

Type: Catamaran

Year: 2023

Country: MARTINIQUE

Base: Martinique/Le Marin

Length: 37 ft

Berths: 8

Cabins: 4

WC / Shower: 2

Price: 6,857.00 €
Skipper licence required no, but Sailing Resume requested.
Obligatory extras:

Security deposit: 4,000.00 €

Equipment:

Navigation: Autopilot, Chart plotter

Sails: Lazy bag

Comfort: Bimini, Cockpit cushions, Cockpit speakers, Dinghy, Inverter, Refrigerator, Solar Panels

Entertainment: Snorkeling equipment

---

Period: Feb 12, 2023 – Feb 22, 2023
Lagoon 400 S2

Type: Catamaran

Year: 2017

Country: MARTINIQUE

Base: Martinique/Le Marin

Length: 39 ft

Berths: 10 (8+2)

Cabins: 6 (4+2)

WC / Shower: 4

Price: 6,857.00 €
Skipper licence required no, but Sailing Resume requested.
Obligatory extras:

Security deposit: 4,000.00 €

Equipment:

Navigation: Autopilot, Chart plotter

Sails: Lazy bag

Comfort: Bimini, Cockpit cushions, Cockpit speakers, Dinghy, Electric winches, Inverter, Refrigerator, Solar Panels

Entertainment: Snorkeling equipment

---

Period: Feb 1, 2023 – Feb 11, 2023
Lagoon 42

– Star Voyage Antilles

Type: Catamaran

Year: 2018

Country: MARTINIQUE

Base: Martinique/Le Marin

Length: 42 ft

Berths: 10 (8+2)

Cabins: 6 (4+2)

WC / Shower: 4

Price: 7,857.00 €
Skipper licence required no, but Sailing Resume requested.
Obligatory extras:

Security deposit: 4,500.00 €

Equipment:

Navigation: Autopilot, Chart plotter

Sails: Lazy bag

Comfort: Bimini, Cockpit cushions, Cockpit speakers, Dinghy, Electric winches, Inverter, Solar Panels

Entertainment: Snorkeling equipment

---
---

Period: Jan 27, 2023 – Feb 6, 2023
Lagoon 40 (Cotopaxi)

Type: Catamaran

Year: 2019

Country: SEYCHELLES

Base: Mahe, Victoria/Eden Island Marina

Length: 39 ft

Berths: 10 (8+2)

Cabins: 6 (4+2)

WC / Shower: 2

Price: 8,429.00 €
Skipper licence required
Obligatory extras:

Security deposit: 6,000.00 €

Equipment:

Navigation: Autopilot, Chart plotter

Sails: Lazy bag

Comfort: Bimini, Dinghy, Refrigerator, Teak deck

---

Period: Jan 22, 2023 – Feb 1, 2023
Lagoon 42 (Pyrat)

Type: Catamaran

Year: 2019

Country: SEYCHELLES

Base: Mahe, Victoria/Eden Island Marina

Length: 42 ft

Berths: 10 (8+2)

Cabins: 6 (4+2)

WC / Shower: 4

Price: 9,257.00 €
Skipper licence required
Obligatory extras:

Security deposit: 6,000.00 €

Equipment:

Navigation: Autopilot, Chart plotter

Sails: Lazy bag

Comfort: Bimini, Dinghy, Refrigerator, Teak deck

Entertainment: Radio-CD player

---

Period: Jan 29, 2023 – Feb 8, 2023
Lagoon 450S (Remire)

Type: Catamaran

Year: 2020

Country: SEYCHELLES

Base: Mahe, Victoria/Eden Island Marina

Length: 46 ft

Berths: 10 (8+2)

Cabins: 6 (4+2)

WC / Shower: 4

Price: 11,286.00 €
Skipper licence required
Obligatory extras:

Security deposit: 8,000.00 €

Equipment:

Navigation: Autopilot, Chart plotter, Radar

Sails: Lazy bag

Comfort: Bimini, Cockpit speakers, Dinghy, Refrigerator, Solar Panels, Teak deck, Water maker

Entertainment: Radio-CD player

---
---

Period: Feb 7, 2023 – Feb 17, 2023
Bavaria C45 (Northern Star)

Type: Sailing yacht

Year: 2018

Country: THAILAND

Base: Koh Chang

Length: 46 ft

Berths: 11 (8+3)

Cabins: 4

WC / Shower: 3

Price: 

7,370.00 €

8+ Day Discount: -5.00%

Price: 7,002.00 €

Skipper licence required
Obligatory extras:

Starter pack and end cleaning: included in price

Outboard engine + dinghy: included in price

Security deposit: 3,300.00 €

Equipment:

Navigation: Autopilot, Chart plotter

Comfort: Bimini, Cockpit speakers, Inverter

---

Period: Feb 18, 2023 – Feb 28, 2023
Sunsail 41 ()

Type: Sailing yacht

Year: 2019

Country: THAILAND

Base: Phuket/Ao Po Grand Marina

Length: 40 ft

Berths: 8 (6+2)

Cabins: 3

WC / Shower: 2

Price: 8,370.00 €
Skipper licence required
Obligatory extras:

Security deposit: 4,470.00 €

Equipment:

Navigation: Chart plotter, Chart plotter in cockpit, Radar

Sails: Lazy jack

Comfort: Bimini, Cockpit speakers, Sprayhood

Entertainment: Snorkeling equipment

---

Period: Feb 17, 2023 – Feb 27, 2023
Sunsail 44 SO ()

Type: Sailing yacht

Year: 2019

Country: THAILAND

Base: Phuket/Ao Po Grand Marina

Length: 44 ft

Berths: 10 (8+2)

Cabins: 4

WC / Shower: 2

Price: 10,651.00 €
Skipper licence required
Obligatory extras:

Security deposit: 4,470.00 €

Equipment:

Entertainment: Snorkeling equipment

---
---

Period: Jan 21, 2023 – Jan 28, 2023 (obligatory to come back the day before till 18h00)
Oceanis 45-4 (Alboran Gin Tonic (Radazul))

Type: Sailing yacht

Year: 2015

Country: SPAIN

Base: Radazul/Puerto Deportivo Radazul

Length: 45 ft

Berths: 10 (8+2)

Cabins: 4

WC / Shower: 2

Price: 

2,800.00 €

Early booking (Radazul): -10.00%

Price: 2,520.00 €

Skipper licence required
Obligatory extras:

Gas consumption: 15.00 € per week

Port services per person: 5.00 € per booking

End cleaning 4 cabins: 120.00 € per booking

Security deposit: 2,500.00 €

Equipment:

Navigation: Autopilot, Bow thruster, Chart plotter in cockpit

Comfort: Bimini, Dinghy, Refrigerator, Sprayhood

Entertainment: Radio-CD player

---

Period: Feb 4, 2023 – Feb 11, 2023 (obligatory to come back the day before till 18h00)
Oceanis 45-4 (Alboran Gin Fizz (Radazul))

Type: Sailing yacht

Year: 2016

Country: SPAIN

Base: Radazul/Puerto Deportivo Radazul

Length: 45 ft

Berths: 10 (8+2)

Cabins: 4

WC / Shower: 2

Price: 

2,900.00 €

Early booking (Radazul): -10.00%

Price: 2,610.00 €

Skipper licence required
Obligatory extras:

Gas consumption: 15.00 € per week

Port services per person: 5.00 € per booking

End cleaning 4 cabins: 120.00 € per booking

Security deposit: 2,500.00 €

Equipment:

Navigation: Autopilot, Bow thruster, Chart plotter in cockpit

Comfort: Bimini, Dinghy, Refrigerator, Sprayhood

Entertainment: Radio-CD player

---

Period: Jan 21, 2023 – Jan 28, 2023 (obligatory to come back the day before till 18h00)
Sun Odyssey 440 (Alboran Caipiroska (Radazul))

Type: Sailing yacht

Year: 2019

Country: SPAIN

Base: Radazul/Puerto Deportivo Radazul

Length: 44 ft

Berths: 10

Cabins: 4

WC / Shower: 2

Price: 

3,000.00 €

Early booking (Radazul): -10.00%

Price: 2,700.00 €

Skipper licence required
Obligatory extras:

Gas consumption: 15.00 € per week

Port services per person: 5.00 € per booking

End cleaning 4 cabins: 120.00 € per booking

Equipment:

Navigation: Autopilot, Bow thruster, Chart plotter in cockpit

Comfort: Bimini, Dinghy, Refrigerator, Sprayhood

Entertainment: Radio-CD player

---

Period: Jan 21, 2023 – Jan 28, 2023 (obligatory to come back the day before till 18h00)
Elan 50 Impression (Alboran Mai-Tai (Radazul))

Type: Sailing yacht

Year: 2015

Country: SPAIN

Base: Radazul/Puerto Deportivo Radazul

Length: 50 ft

Berths: 10

Cabins: 5

WC / Shower: 2

Price: 

3,100.00 €

Early booking (Radazul): -10.00%

Price: 2,790.00 €

Skipper licence required
Obligatory extras:

Gas consumption: 15.00 € per week

Port services per person: 5.00 € per booking

End cleaning 5 cabins and catamarans : 140.00 € per booking

Security deposit: 2,500.00 €

Equipment:

Navigation: Autopilot, Bow thruster, Chart plotter in cockpit

Comfort: Bimini, Dinghy, Refrigerator, Sprayhood

Entertainment: Radio-CD player

---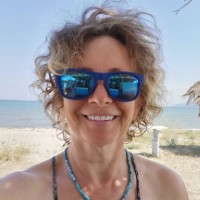 Zadzwoń!
Porozmawiajmy o czarterach
jachtów w tropikach.
502 386 503 Magda Koczewska
Przeczytaj artykuły o akwenach: